| | | |
| --- | --- | --- |
| | | |
| | | | |
| --- | --- | --- | --- |
| Poster: | elbow1126 | Date: | Feb 19, 2010 6:05am |
| Forum: | GratefulDead | Subject: | Re: BIG Deal jams... |
I think the one reason that people do go back and listen to the shows they attended is because of what is in their mind's eye. It can help them relive the experience. I will occasionally listen to one show I attended in 1990 (7-16-90) and I think about the friends I was with and the whole experience of that road trip. I am sure that it biases my opinion about the quality of that show. The reviews at this site are polluted with "I was there and it rocked" regardless of the quality of the sound or music. I am not saying that being there wasn't great, but objectively I know that after listening to some of the shows that I loved being at, they weren't actually all that good.
What I struggle with is the idea of reliving the show through someone else's eye. I have great memories of Buffalo that hot summer July day. I can't imagine how watching it would enhance those memories. To me its the difference between listening to music, which stirs up the memories and watching a concert, which may change them ("damn jerry looked A LOT worse than I remembered"). My feelings are pretty consistent on this, we didn't video tape our wedding and i never taped the kids stuff we simply lived the events.
| | | | |
| --- | --- | --- | --- |
| Poster: | dead-head_Monte | Date: | Feb 19, 2010 10:15am |
| Forum: | GratefulDead | Subject: | Re: BIG Deal jams... |
"I think most of us here tend to agree that - as real Dead-Heads - we initially tend to gravitate towards shows that we attended. "
I was speaking for myself, of course. And I was jabbing at Midnight Sun's reference to the 80s.
I thought people who love the 80s and 90s shows so much are saying so largely because they attended them. I never attended any of these shows. I apologize if I offended anyone w/ my Dead-Head comment. It was not an attack. Nor was it intended to be offensive.
I also like String Cheese Incident, as well as many other bands. I listen to a few SCI shows, but I'm not a Cheese-Head. I've never been to an SCI show. And I'm not a music critic either. Most of the few reviews I've written here do suffer from extreme bias. But I do enjoy conversations about live music, jamming, great sound, incredible players, and notable bands.
There is so much else I don't know. The history we have is remarkable, and much of it remains to be shared. Many people express great interest in this history. Some people remain critical of this, as they want to see more recordings released.
In my mind, I was a "real" Dead-Head for one year. That's when I was going to shows. But, I've always liked their music alot. The GD culture is another thing. That changed my life. I don't pretend to know anything about other people's GD habits or state of mind. The Internet Archive is an interesting place to visit. It gives me peace of mind that I was able to make a small contribution here. It's that simple.
I know.... I know.... silence is golden. Peace.
elbow -- That's a great point you make about "reliving the show through someone else's eye."
| | | | |
| --- | --- | --- | --- |
| Poster: | midnight sun | Date: | Feb 19, 2010 11:32am |
| Forum: | GratefulDead | Subject: | Re: BIG Deal jams... |
hey Monte, wanted to listen to 7/31/73 before responding but as you can imagine i'm up to my neck in Deal's...
attending a show obviously makes a person aware that a show exists and almost always meant having a recording of it, the same way as having a tape of a non-attended show back in the day...along with Placid, Vansterdam 6/22/73 (aud) was also one of my favs (how ironic would it have been had you attended Van 73 and declared it YOUR fav attended along with Placid your fav 80's!)
shit, i attended 7/4/86, 7/19/87, and 8/26/88 (to name a few) but you never see me patch a link to any of those
since discovering the archive in 2004 i've been totally overloaded with sensory input, can't even remember 10% of what i just listened to in the last month, but i won't likely forget the 100 or so tapes i listened to the previous 22 years
i genuinely prefer the 80's, i'm definitely listening from a theoretical standpoint of Jerry's musical development, ignoring the overall shortfalls of the entire band (incl Jer) i can still appreciate what others dig form the 60's and 70's, for example, that 10/30/68 M&HB's clip from the Further site sparked my interest (good find Cliff!) how often do you hear a rock quartet from the 60's with 2 drummists???
there is no superior anything with the Dead, and this Deal thread proves i can't possibly compare renditions of even a single song that are so vastly different, but i for one am having the time of my musical life caught up in the discovery with the help of so many super refined keen ears...and i'm nowhere near Dealing 1989 yet!
| | | | |
| --- | --- | --- | --- |
| Poster: | dead-head_Monte | Date: | Feb 19, 2010 12:40pm |
| Forum: | GratefulDead | Subject: | Re: BIG Deal jams... |
My post was silly in this thread. Midnight Sun, you and I know why I posted my remarks in this thread.
You plugged the Lake Placid show.
Only 1 hour and 15 minutes earlier, I had just mentioned the '83 Lake Placid show to you, in a post responding to you.
It's right here
. No excuse for me - I'm a Sugaree junkie.
Sugaree is played perfectly — I've mentioned this show many times
| | | | |
| --- | --- | --- | --- |
| Poster: | midnight sun | Date: | Feb 19, 2010 12:57pm |
| Forum: | GratefulDead | Subject: | Re: BIG Deal jams... |
been thinking of starting a Deal thread featuring that link for a while now, you's the catalyst, good man (those 80's haities also helped, however unwittingly...)
ringolevio nailed it a few weeks back;
"I don't think you were being hostile, I just think it's interesting."
:)
| | | | |
| --- | --- | --- | --- |
| Poster: | dead-head_Monte | Date: | Feb 19, 2010 1:11pm |
| Forum: | GratefulDead | Subject: | Re: BIG Deal jams... |
Go for it.
My 1st "Deal" thread
was posted on this forum on Jan 12, 2008...
Is "Deal" considered top-40? I feel it's a showcase tune for the Dead. I'm sensitive to bands being loved-to-death, and always pressed to perform the favorites, leading up to burn-out. The Forum here was just discussing this issue in the "Jerry Question." Fact is I also have a passionate fondness for Deal. Like Sugaree and some other tunes, I've enjoyed the boys performing these stellar classics in their extended versions during later years.
When I examine a Dead show on LMA I look at the setlist first. I'll sample a few tunes selectively. Which ones depends on what year. Best Deal I found thus far (early years version) is this sbd from
Live at Assembly Hall
, Univ. of Il. on 1973-02-22. Anybody know any outrageous Deal performances here on LMA?
| | | | |
| --- | --- | --- | --- |
| Poster: | elbow1126 | Date: | Feb 19, 2010 12:41pm |
| Forum: | GratefulDead | Subject: | Re: BIG Deal jams... |
I don't think you meant to be offensive to anyone so need to apologize. I think its great that there are people here who never attended a show or maybe only 1 show and I wanted to make sure they understood that passion for the music isn't judged by how many shows you attended or which era you attended them. I think SDH is right though, this place does also provide a bit of that parking lot feel to add to the experience.
I had very little experience with '70s material when I found this place and 6-10-73 was one of the first shows I sampled. You're familiar with this show, correct?
| | | | |
| --- | --- | --- | --- |
| Poster: | warpHrat | Date: | Feb 19, 2010 10:31am |
| Forum: | GratefulDead | Subject: | Re: BIG Deal jams... |
Got any smoke cowboy ?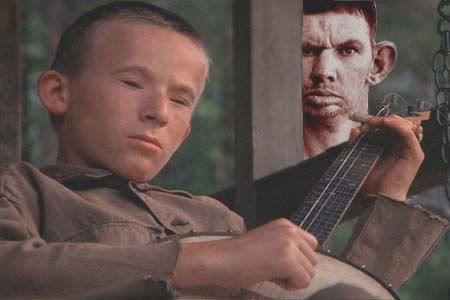 | | | | |
| --- | --- | --- | --- |
| Poster: | dead-head_Monte | Date: | Feb 19, 2010 11:39am |
| Forum: | GratefulDead | Subject: | Re: BIG Deal jams... |

that pic is from The Deliverance movie

the famous title track gets played pretty well in this MP3 smoke
Jim & Jesse McReynolds and The Virginia Boys perform it for Calif hippies

Dueling Banjos - Marin County Bluegrass Festival in 1974

if you wanna smoke a bowl
get off The Turnpike at exit 340 and go for it

| | | | |
| --- | --- | --- | --- |
| Poster: | William Tell | Date: | Feb 19, 2010 8:26am |
| Forum: | GratefulDead | Subject: | Re: BIG Deal jams...Smug posters vs Reviewers |
Reviews vs "interest" in shows attended is an important component here. But first, I had no idea so many of the fine posters hear agree with me (no offense Monty--your observation makes sense on another level: folks may just look up "their" shows as a matter of pride, curiosity, etc., etc., rather than actually feeling "these are BEST" or some such). Those that provide uncritical, 5 star ratings for just having gone to a show are what strike me odd.
I have droned on many times about NOT agreeing with GoP (sorry, geezer, but you have been the one to often mention "it's only natural we review shows we attended highly"...right? I think you say this cause you went to the good ones, you BASTARD!, and may be self deprecating out of guilt), but thought I was the only one.
Now, having read so many others above mentioning this, I think it safe to say, many of the posters, not necessarily REVIEWERS, are NOT inclined to rate the shows they went to as all 5 star...rather, most them, not being the fossil GoP, have tended to come around to thinking there are probably a lot more 5 star shows from the early era (say, first 15 yrs) than the latter era, period.
So, all of this is to say, most posters pontificating hereabouts are not necessarily early era fanatics like me, and perhaps even happy to yell out, "I love all 30 yrs!", but when it comes to reviewing shows and in general "critiquing", objective enough to pick them on performance not attendance.
That also addresses, in part, how we posters are somehow different than the reviewers, and of course, just how much better we are...there, would you really want a PM that couldn't take four paragraphs to end up telling you that you really are as good as you think you are?